The undergraduate Certificate in Medieval studies requires at least 18 s.h. in medieval studies coursework. Students must maintain a g.p.a. of at least 2.00 in work for the certificate.
The certificate may be earned by any student admitted to the University of Iowa who is not concurrently enrolled in a UI graduate or professional degree program.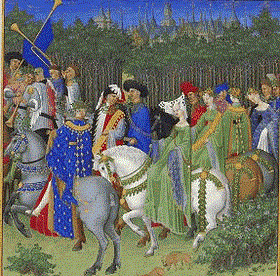 The program enables students to combine study in three or more disciplines into an organized investigation of the Middle Ages, a rich historical period that continues to influence today's culture. Students may earn the Certificate in Medieval studies as a distinct interest or combine it with focused study in areas such as art history; classics; comparative literature; gender, women's, and sexuality studies; languages (e.g., French, German, Italian, Portuguese, Spanish); music; philosophy; religion; and theater.
Students must include courses from at least three different departments in their work for the certificate; they may count a maximum of 10 s.h. from a single department or program. Courses used to fulfill GE CLAS Core requirements or the requirements of a major or minor may be counted toward the certificate in most cases. Up to 6 s.h. of transfer credit may be counted toward certificate requirements, with the Certificate in Medieval studies coordinating committee's approval; contact the certificate program's coordinator.
For more specific information on courses, curriculum, and requirements of the Certificate in Medieval studies, visit the UI General Catalog.