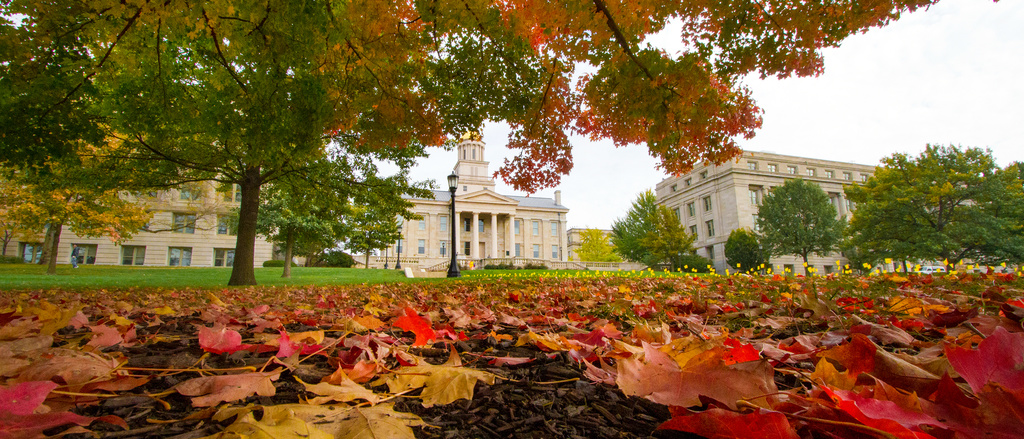 April 2021
Dear alums,
As we slowly make the transition out of what has been one of the most trying twelve months any of us can remember, we want our alums and friends to know that Classics is still a strong presence at the University of Iowa, and that we have every intention of remaining so.
Πάντα ῥεῖ. Herakleitos got that right. Since I arrived at Iowa in 1988, faculty has retired or moved on, and we were saddened by the passing of Archie Bush, Roger Hornsby, and Carin Green. Six different people have served as chairs of the department. New faculty members have joined our ranks, and topics of research and course offerings have changed along with the field of Classics itself. I have had four different offices as the College moved us from the basement and first floor of Schaeffer Hall to the Jefferson Building while Schaeffer was given a facelift, then back to second floor Schaeffer, and finally to the refurbished second floor of the Jefferson Building which has been our home since 2003. You yourselves in the meantime went on to futures as varied as the ancient world you studied: you became teachers, researchers, caterers, lawyers, doctors, librarians, ministers, bankers, publishers…and the list goes on. My father, who taught biology at a small college in Illinois, always said a liberal arts education may not show you how to do something new, but it gives you the guts to try. You, our alums, are living illustrations of how right he was.
And while you were moving on, so were we. A focus on the past has never meant we were fossilized. The study of Latin and Greek languages and literatures remain at our core, but in 2011 we welcomed two new colleagues, Bob Cargill and Paul Dilley, whose expertise in the Biblical world have added Hebrew, Aramaic, Coptic, and Syriac to our offerings. Hands-on contact with the subjects and objects of our studies have been possible for students going to dig at Gangivecchio, Sicily with Glenn Storey and Tel Azekah in Israel with Bob Cargill. Over the last two decades Mary Depew and Deb Trusty took students to study in Greece as a part of the Greek civilization curriculum. Back at home, Marquis Berrey developed what is now the best-enrolled undergraduate class in ancient medicine in the US. Meanwhile the literary end of things will continue to be covered by our new colleague Celsiana Warwick, whose specialty is Homer and the epic tradition, and Erika Valdivieso, who will join us in 2022 with a research specialty in early modern Latin education in the Hispanic New World. In Spring of 2022, we will also be welcoming Professor Art Spisak back into the fold as a full time Classics faculty member. Art has served as director of the University Honors program for ten years, and is returning to share his specialties in Latin poetry and Classical reception in film.
We responded in the last decade to the University's call for outreach, public engagement, and a presence on the web. You may have seen Bob Cargill's "Bible Secrets Revealed" on the History Channel; Rosemary Moore, Distinguished Associate Professor of Instruction in History and Classics has chaired the Leadership Studies Certificate committee and is a strong advocate for students with disabilities and special needs on campus and in the Iowa City area. Two departmental faculty members have gotten Society for Classical Studies Outreach Prizes: one in 2013 for my conference held at Iowa, "Re-Creation: Musical Reeption of Classical Antiquity," and the other to Sarah Bond (who has since moved  over to the History Department) for her public scholarship. In 2019, the undergraduate Classics honorary society Eta Sigma Phi, our champion cohort of Classics Instructors, and our highly creative administrative assistant Lindsay Vella, turned the annual Homerathon into an exemplary outreach project. Over the course of 24 hours in April, the Iliad was read out loud on the Cleary Walkway by a cast of readers that included University President Bruce Harreld and our notable translator, scholar and adjunct professor, Peter Green. The scores of readers included everyone from the mayor of Iowa City to freshman Mythology students. Undaunted by the pandemic of 2020, the Homerathon crew turned the event into an online production that included readers from around the country and the world.
Recent promotions have included Bob Cargill and Paul Dilley to associate professor status, and Rosemary Moore and Marcia Lindgren, longtime director of the elementary Latin program, to associate professors of instruction. Another wave of departures is also upon us. Congratulations and best wishes to Marquis Berrey who is leaving Iowa this coming fall to start medical school at the University of Maryland. Helena Dettmer, John Finamore, and I will be retiring as of spring semester 2022. The department is used to everything flowing, however, and change helps us thrive. As I write this, the department, now under the very able leadership of Craig Gibson as chair, is engaged in exciting discussions about revising our graduate and undergraduate programs to meet the challenges to humanities and Classics in the coming decades.
But have a look for yourselves. Check out our new website and see the new faces and programs. And write to us. We'd love to hear from you about what you are doing and have done. Tell us what we did well and what we can do better. And please, once things open up again, come visit us!
Robert Ketterer
Professor of Classics